During the ceremony marking the start of the academic year at Unistra, on September 7th, six early career researchers were awarded a scientific prize « Espoirs de l'Université de Strasbourg ». Under the framework of the « Initiative d'excellence » (Idex), this prize recognises the « quality of the work and of the trajectory of young researchers forming the scientific potential of Strasbourg University ». The ICS is represented among the laureates by Aurélie Hourlier-Fargette (MIM team).
The six young researchers who received this recognition this year are:
Victoire Feuillebois (Geo - Unistra), Yann Basire (Ceipi - Unistra), Caroline Bertagnolli (IPHC - Unistra/CNRS), Aurélie Hourlier-Fargette (ICS - CNRS), Eloi Verrier (IVH - Inserm/Unistra), Hélène Zuber (IBMP - CNRS).
More details in « Savoirs » : https://savoirs.unistra.fr/talents/prix-espoirs-2023-six-chercheurs-a-lhonneur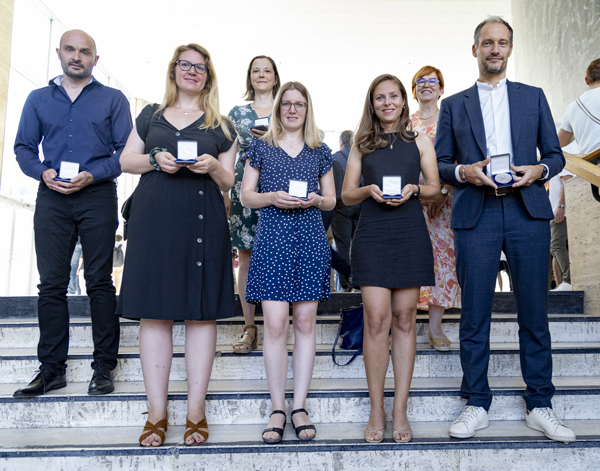 Picture credits: Catherine Schroder - Unistra